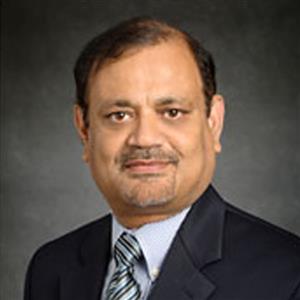 For More Information
Education
M.Tech, Aircraft Production Engineering, Indian Institute of Technology, Madras, 1987
Ph.D., Industrial Engineering, The Pennsylvania State University, University Park, 1995
Academic Positions
Adjunct Assistant Professor, Department of Mechanical Engineering, Iowa State University, Ames, Iowa, 8/1995 to 7/1996
Assistant Professor, Department of Mechanical and Aerospace Engineering, University at Buffalo, 8/1996 to 8/2002
Adjunct Professor, Department of Urological Oncology, Roswell Park Cancer Institute, Buffalo, NY, 6/2007 to present
Adjunct Professor, Department of Computer Science and Engineering, University at Buffalo,5/2003 to 8/2014
Associate Professor, Department of Mechanical and Aerospace Engineering, University at Buffalo, 8/2002 to 8/2008
Professor, Department of Mechanical and Aerospace Engineering, University at Buffalo, 8/2008 to 8/2014
Faculty Affiliate, Department of Electrical and Computer Engineering, University of Illinois at Urbana-Champaign, 8/2015 to present
Faculty Affiliate, Department of BioEngineering, University of Illinois at Urbana-Champaign, 8/2015 to present
Faculty Affiliate, Department of Computer Science, University of Illinois at Urbana-Champaign, 5/2016 to present
Professor, Department of Industrial and Enterprise Systems Engineering, University of Illinois at Urbana-Champaign, 8/2014-present
Engineer-in-Chief, ARCHES Program,University of Illinois at Urbana-Champaign, 8/2014-present
Director, Health Care Engineering Systems Center, College of Engineering,University of Illinois at Urbana-Champaign, 8/2014-present
Other Professional Employment
Management Trainee (Technical), Hindustan Aeronautics Limited, India, 7/1985 to 1/1987
Engineer, Hindustan Aeronautics Limited, India, 1/1987 to 7/1990
Associate Scientist in Virtual Reality, Iowa Center for Emerging Manufacturing Technology, Institute for Physical Research and Technology, Iowa State University, Ames, Iowa, 2/1995 to 7/1996
Other Professional Activities
American Society of Mechanical Engineers (ASME), Nominated as Fellow in December 2013.
American Society of Mechanical Engineers (ASME), Member, 1994 - present.
Institute of Electrical and Electronic Engineers (IEEE), Member, 1996 - present.
Board Member and Co-founder, Tactus Technologies (www.tactustech.com) Getzville, NY (August, 2004 – present).
Co-Founder, Simulated Surgical Systems LLC (SSS), Williamsville, NY (June, 2009 – present) (www.simulatedsurgicals.com).
Research Areas
Data Analytics
Decision and Control Systems
Design and Manufacturing
Chapters in Books
Kesavadas, T., Kamerkar, A., and Anand, A., "Touch-based Interactive Modeler using Force/Position Data Glove" Virtual Engineering, Chapter 2, Momentum Press, 2010.
Kesavadas, T., and Guru, K. "Role of Simulator in Robotic Surgery" Pediatric Robotic and Reconstructive Urology, Chapter 3, pp 19-29, Wiley-Blackwell Press, June 2012.
Selected Articles in Journals
Bramlet, M., Wang, K., Clemons, A., Speidel, N. C., Lavalle, S. M., & Kesavadas, T. (2016). Virtual reality visualization of patient specific heart model. Journal of Cardiovascular Magnetic Resonance, 18(422).
Service on University Committees
University of Illinois at Urbana-Champaign, Faculty Senate, Member, 2015-present
Honors
Creative Entrepreneur of the Year award (2011)
Robotic surgery simulator research in permanent display at the Buffalo Science Museum (2011)
State University of New York Entrepreneur of the Year Award (2011)
Best poster award (2012)
Visionary Innovator Award (2012)
Fellow of American Society of Mechanical Engineering (2013)
Recent Courses Taught
HT 503 - Hardware Eng Health Tech
HT 504 - Software Eng Health Tech